GRENADIER GUARDS DRUMMERS TRAINING.
---


Updated 18th February 2008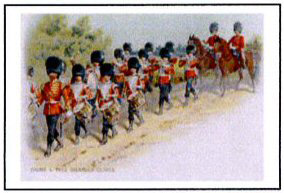 Having been invited by Drum Major Mathew Betts, 1st Battalion Grenadier Guards Corps of Drums, to arrange a number of Veteran Drummers to give some Music and Playing instruction to his young Drummers, we managed, without too much trouble to start the series of Training dates with seven instructors, made up as follows :-

Peter Nightingale. Bb/Bugle. GDCDA.
Stuart Sutton. Bb/Bugle. GDCDA.
Brian Harrod. Bb/ F/Bugle. GDCDA.
Mick Davis. Bb/Bugle. GDCDA.
Don Castelow. F. Bugle. Yorkshire COD.
Brian Lane. S/Drum. GDCDA.
Peter Taylor. S/Drum. GDCDA.

We assembled at the Sergeants Mess on Sunday evening to be briefed by the Drum Major about his training program for the week, and started off at 0830hrs on the following morning. There were no fewer than eighteen Drummers who had no, or in some cases, very little knowledge of playing either Drum or Flute, so our approach to the job in hand was intense over the five days, which culminated with the new Drummers performing, Retreat Marches, and Haslemere on the Barrack Square before dispersal for the weekend at mid day on Friday, so quite a lot achieved in just a week, not forgetting of course, the great step forward on the Bugling front. It has to be said, that the young Drummers were very keen to learn, which made our job so much more easier. We were very grateful to the Sgt Major and all Mess members for allowing us the use of their facilities, both accommodation and meals were top grade, also our thanks to the Drum Major and his staff for giving us much useful backup. During the week we were visited by the British Army Senior Drum Major, WO1 Shaun Huggins, which was very much appreciated.
It was originally envisaged that we would carry out three weekly training blocks over a six week period, but due to Battalion Training and Leave, this has to be revamped, and will now happen on a more ad hoc basis. Those instructors involved will be kept informed of training dates, so further information can be acquired from myself.
The Drum Major is most appreciative of our efforts to date, and is very keen for us to, "Finish the job off", to this I add my thanks and congratulations to all instructors for carrying out the first successful week, which I'm sure we all enjoyed.
Just as a footnote, many of the young Drummers we were teaching had only returned from Afghanistan late last year, some of whom had also been to Iraq the year before, so two very tough deployments under their belts, but still awesome in terms of their good spirit, and sense of fun, they are a pleasure to know and teach.


Peter Taylor.
Hon.Secretary The Guards Division Corps of Drums Association.


Monday 4th to Friday 8th February 2008. Lille Barracks, Aldershot.